In the Presence of Dying – Online Retreat and Memorial Service
With Pema Khandro
June 27, 2020
A one day course on Tibetan Buddhist teachings on dying and death and an Open Buddhist Memorial Service to commemorate the lives of loved ones we have lost. 
Facing realities of dying, death and grief are central to our human experience. This daylong is the culmination of an online series offering reflections on dying, illness, loss and grief from the point of view of experts in diverse fields such as caregiving, hospice, Buddhist ministry and past-life research.  
Funeral Rights for Deceased Loved Ones
In Buddhism, the time of death is one of the most important times for spiritual energy to be raised to its greatest heights to help the individual become free from karma and take a positive rebirth or attain great liberation. This ritual provides a positive basis to help the deceased to find peace and liberation in their journey. Such rituals also soothe and heal the surviving loved ones by providing a beneficial form through which to transform in the grieving process. Please include the name or names of the loved ones you would like the practice to be dedicated to, and 1-2 sentences about the loved one. If you would also like to make an offering on their behalf you can do so when you register.
Saturday Online Retreat, Suggested Program Donation $108
Funeral Rights for Loved Ones Who Have Passed, Suggested Donation $54
Saturday June 27th 10am – 6pm PST
In the Presence of Dying – Daylong Retreat
Death, Dying & Rebirth, the Tibetan Bardo Teachings 10am PST – 1pm PST
Pema Khandro will present Tibetan Buddhist teachings on  preparing ourselves and loved ones for death.
Stories From the Life of My Loved Ones 3p-4pm PST
Community Tea Time, sharing stories of our lost loved ones in small groups.*
Open Memorial Service 4pm -6pm PST
Open Buddhist Memorial service online for all those who have passed away led by Pema Khandro. Short eulogies and dedications will be read and the Buddhist Funeral rites will be performed.
*There will be a separate link for Saturday's Community Tea Time that will be sent to you in a Welcome Letter closer to the date.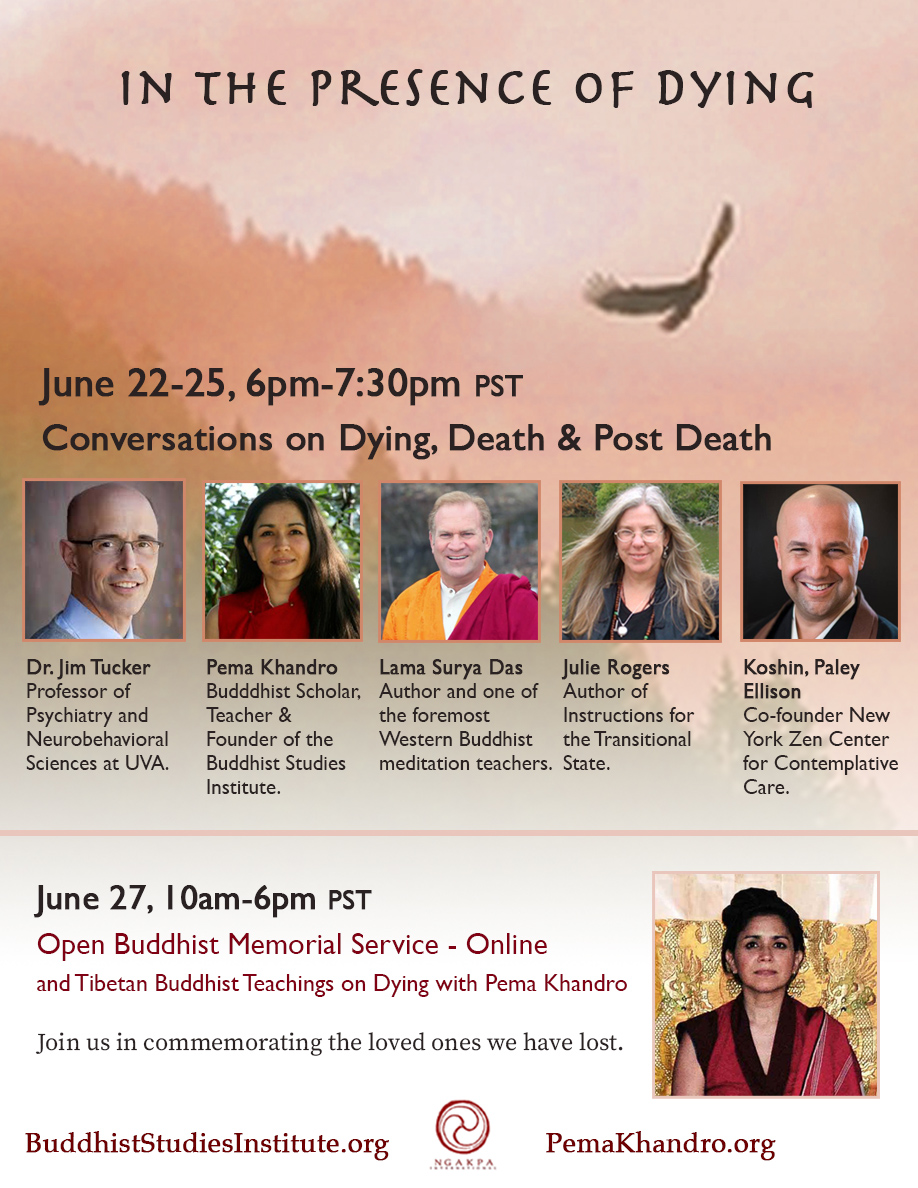 ---
In the Presence of Dying, Evening Conversations
June 22nd-27th, 6-7:30pm PST ~ Go to Upcoming Events to Register
Monday June 22nd 6-7:30pm PST ~ Lama Surya Das
Author and one of the foremost Western Buddhist meditation teachers.
Tuesday June 23rd 6-7:30pm PST  –   Julie Rogers
Director of TLC Transitional Life Care and Author of Instructions for the Transitional State
Wednesday June 24th 6-7:30pm PST – Jim Tucker 
Professor of Psychiatry and Neurobehavioral Sciences at UVA
Thursday June 25th 6-7:30pm PST – Koshin Paley Ellison 
Co-founder New York Zen Center for Contemplative Care