Pema Khandro's Birthday Celebration
With Pema Khandro
December 10, 2022
Pema Khandro's Birthday Celebration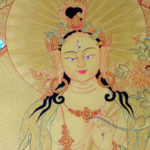 You are Invited!
Saturday, December 10th
9am PT | 12pm ET | 5pm GMT
Join us to celebrate the pioneering work and life of Pema Khandro founder of Ngakpa International, the Buddhist Studies Institute and Dakini Mountain. Pema Khandro is a scholar of Tibetan Buddhism, a lineage holder of the Nyingma and Kagyu lineages, and the head teacher for our dharma school for the last two decades. On this birthday, we will celebrate her pioneering work for women in Buddhism, Buddhism in North America and the future of the ngakpa tradition. Learn more about Pema Khandro by clicking here.
All Members and friends are invited to join us for  
White Tara practice led by Pema Khandro

A talk by Pema Khandro

Performances by community members

Appreciation ceremony
Every year on Pema Khandro's birthday, the community celebrates together. This event will be online and we cordially invite you to join us on this special heart-felt occasion.
White Tara 
White Tara meditation is a meditation done for freedom from calamities and world peace in the times of climate crisis and pandemic. White Tara is the great soother of difficulties and the method for remembering innate peace. The previous Pema Khandro was considered to be an emanation of White Tara and Vajryogini so this practice has a special power for our community as the continuation of a heritage of an indigenous Buddhist woman lineage holder from Tibet, being continued by an indigenous woman in the West. Pema Khandro will lead the White Tara meditation based on the meditation that she translated and redacted for the Women's March in Washington D. C. 2017. This is a short, potent, beautiful White Tara practice in English with a mudra and melodies for accessible practice. Pema Khandro will give the "lung" or spoken initiation into the practice and lead the meditation. Texts will be available after registration.
Pema Khandro's Birthday Wish 
Pema Khandro's birthday wish is for all the proceeds to go to Dakini Mountain. Dakini Mountain is a retreat center that Pema Khandro dreamed about for decades and now it has come to fruition but relies on your support for its continuation. Join us for this opportunity to celebrate Pema Khandro's birthday, fundraise for this amazing project and practice meditation and celebrate together in a vibrant Vajrayana community.
Leader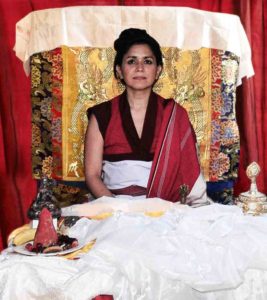 Pema Khandro
Pema Khandro is an internationally renowned teacher and scholar of Buddhist philosophy. Ordained in the Nyingma lineage, enthroned as a tulku, and trained as an academic, her teachings celebrate the dynamic coalescence of tradition and the modern context. She is the founder of Ngakpa International and its three projects: The Buddhist Studies Institute, Dakini Mountain and the Yogic Medicine Institute. In her work as a Buddhist teacher she is an authorized Lama and lineage holder of the Nyingma and Kagyu traditions and was enthroned to carry on the lineage of her predecessor, the first Pema Khandro, an early twentieth century…
Learn more about Pema Khandro