Vajrayana Training – Online
With Pema Khandro
February 1, 2023
Vajrayana Training is offered in modules. The courses are non-sequential and can be taken in any order. In web-classes, meeting twice a month, students will discover how to understand the pivotal principles of Tibetan Buddhism, make sense of empowerments, and go deep into understanding oneself, one's own world, and how to make better sense of one's own mind.
Click here for full curriculum and details – Vajrayana Training.
For questions or help with enrollment, please contact Membership@Ngakpa.org.
Leader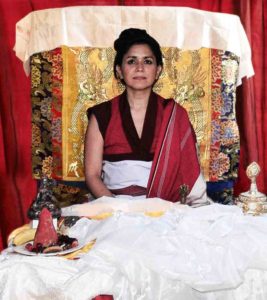 Pema Khandro
Pema Khandro is an internationally renowned teacher and scholar of Buddhist philosophy. Ordained in the Nyingma lineage, enthroned as a tulku, and trained as an academic, her teachings celebrate the dynamic coalescence of tradition and the modern context. She is the founder of Ngakpa International and its three projects: The Buddhist Studies Institute, Dakini Mountain and the Yogic Medicine Institute. In her work as a Buddhist teacher she is an authorized Lama and lineage holder of the Nyingma and Kagyu traditions and was enthroned to carry on the lineage of her predecessor, the first Pema Khandro, an early twentieth century…
Learn more about Pema Khandro