Vajrayogini Retreat: Online Meditation Retreat & Dakini Mountain Consecration
With Pema Khandro and Drupon Rinchen Dorjee Rinpoche
May 29 - 31, 2020
From May 29th-31st, join us in an online meditation retreat led by Pema Khandro. We will also host special guest teacher  Drupon Rinchen Dorjee Rinpoche who will bestow the Vajrayogini empowerment. The weekend will focus on a Buddhist meditation retreat in your own home, through an online retreat format.
The retreat will focus on a series of Vajrayogini meditations cycling through purification of karma, consciousness transference at death, illusory body to transforming obstacles with a concise Black Vajrayogini Chod. The retreat begins with Pema Khandro giving the lung and instruction in the Three Dakini Chod practice, the Dakini Chod is the concise version of the Rinchen Trengwa. This includes Yum Chenmo (Prajnaparamita Great Mother meditation) meditation for purification of karma, Vajrayogini practice for transferring consciousness at the time of death, discovering the illusory body in the practice of White Vajrayogini, generating great bliss as Red Vajrayogini and finally Black Vajrayogini meditation for severing illusions and transforming obstacles. By Sunday, the retreat will culminate in the Calling the 100,000 Dakinis torma offering from the Khandro Nyingtig and Rinchen Trengwa and in the Vajrayogini empowerment for generation stage practice and mantra accumulation by Drupon Rinchen Dorjee Rinpoche. Each session will include Zhine, Calm Abiding Meditation, which is the heart of all practices.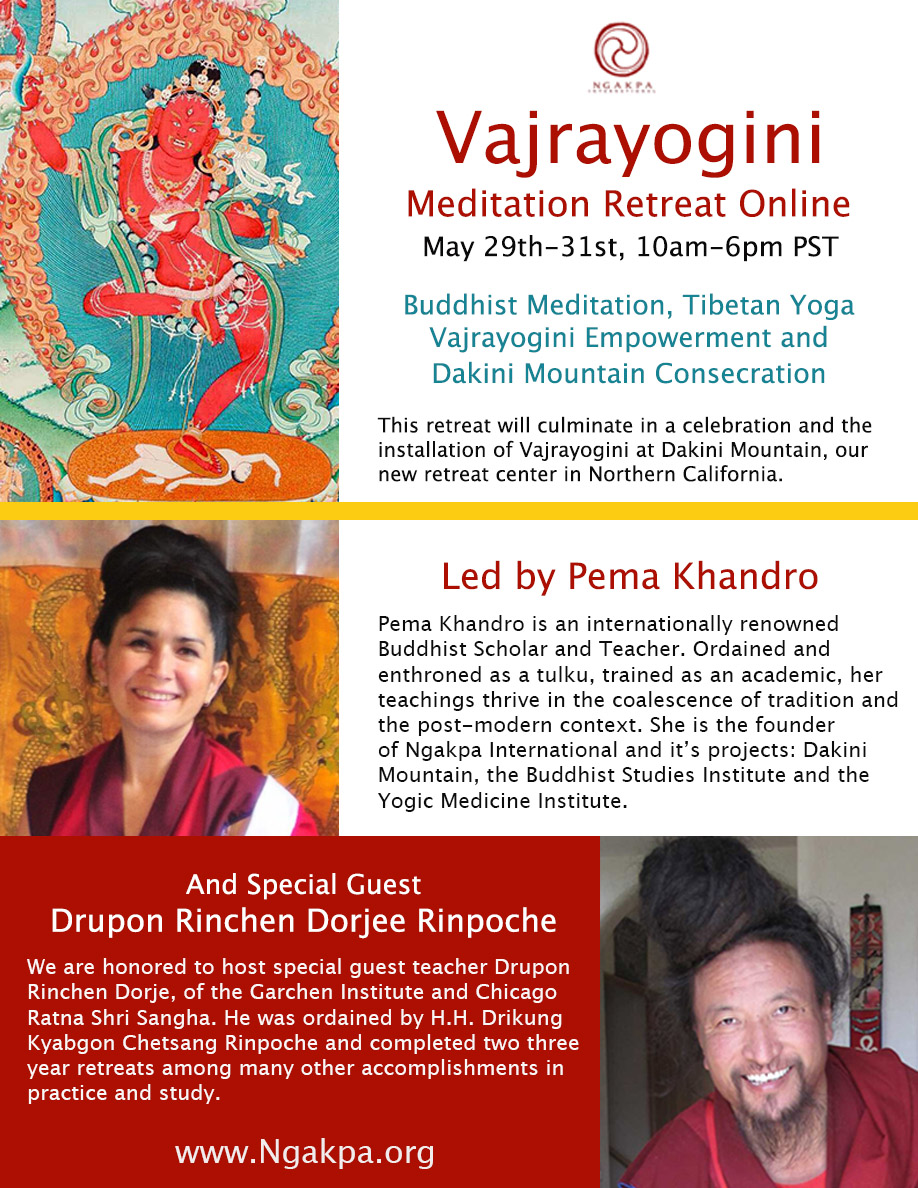 About this Retreat
This is one of four retreats a year offered by Pema Khandro: 1) the Vajrayana retreat, 2) Dzogchen Retreat 3) Chod Retreat and 4) VajraSangha retreat, this one falling into the category of Vajrayana Meditation Retreat. This year in May, 2020, due to the worldwide pandemic and national shelter-in-place orders in the USA, this event, which had been planned to be in person, was moved online. 
About Vajrayogini & Dakini Mountain
This retreat celebrates the installment of the Vajrayogini shrine at Dakini Mountain, a pilgrimage site for Vajrayogini in the Lake Tahoe National Forest of Northern California, founded by Pema Khandro. Vajrayogini is regarded as the essence of all buddhas, venerated by every sect of Tibetan Buddhism and venerated by Buddhists (and Hindus) all over the world. Vajrayogini is the symbol of the freedom and power of intrinsic wisdom and the enlightened feminine wisdom that severs suffering at its root. 
Retreat Format
Friday May 29-31st, 10am-6pm PST (UTC-7)
This retreat will be offered on zoom, an online platform for group gathering.
Participants will need a comfortable, quiet place to sit as well as a computer and internet access. There will be a lunch break each day from 12pm-1:30pm PST(UTC-7). As well as short tea breaks at 4:40pm PST(UTC-7)
*Sunday Only registration is also available, 10am – 6pm PST (UTC-7)  For those who want to only attend the empowerment with Drupon Rinpoche and Dakini Mountain Vajrayogini statue installation.
Participants will receive link to join on completion of registration and admission is approved. Links will also be sent 24hrs and 1hr before the start time on Friday.  *Sunday Only participants will receive link to join 1hr before the start time on Sunday.
Participants will receive texts to print by email.
Please email info@buddhistyogis.org if you have any questions.
Pre-requisites: Generally in Vajrayana the generation stage practices such as Vajrayogini are accomplished 100,000 times. This type of practice is usually started after ngondro is completed because ngondro is the foundation of all meditations of Buddhist Tantra. Ngondro is a set of 4 practices which are each accumulated 100,000 times each. Completion of full ngondro practice is not required to receive the Vajrayogini empowerment. Instead, Drupon Rinpoche very generously requests that students simply complete ngondro first before beginning their Vajrayogini accumulations. There are no other commitments required from this empowerment. It is given out of generosity of the instructors with wish that it will benefit you both as a blessing and as a practice.
A Note from Pema Khandro About Online Teachings
"Online retreats and teachings are a contested issue in Tibetan Buddhism when it comes to Vajrayana. Some people are staunchly against it, others favor it. This event is co-sponsored by the Buddhist Studies Institute, our project which is founded on the idea that online technology can transform the way that Buddhist teachings are offered to make them more accessible. This theory has been proved through ample evidence of our courses which have a diverse student body reflecting diverse racial, ethnic, social, economic, gender and gender orientations. Bodies that are differently abled have attended online programs when in-person events would be too difficult. Single mothers who are not able to leave their child alone for a weekend have attended. Participants in ten countries have attended, making connections across cultures. Therefore, the accessibility and potential of online programs has been demonstrated to make a positive impact. 
I believe that the point of Buddhist teachings is to reduce suffering and promote peace and technology is a beautiful way to do that. The Buddha himself said that he would teach Buddhism in the language of every type of being. Technology is a new language, through which Buddhist training is being interpreted. 
At the heart of the debate about online programs is the fascinating question of what makes 'transmission' possible. In Tibet, India and Nepal, I have attended many empowerments where thousands of people received the 'transmission' even though many hundreds were not even in the building. Due to oversized crowds, they sit outside and sometimes watch on screens. Yet these empowerments are considered to be authentic empowerments due to the intention and connection.  How is this different from or the same as watching on screen from home while a program is broadcast live??? Out of great caution and respect I have primarily reserved the online programs for Buddhist philosophy study since this question of what constitutes transmission is such a serious and profound one. However there are certain urgent occasions, like this global pandemic, when so many other Lamas are giving empowerments online that I have judged it suitable to host an online empowerment by a guest Lama or give a reading transmission.
I reject an overly reductionist assessment of the issue in binary terms and instead simultaneously respect both beliefs as true: that Vajrayana should be taught online and that it should not be taught online, according to the particular teacher, lineage and circumstances of the students. This school will respect diversity in ways of expressing dharma, each approach will have their place. Bodhichitta is the most important matter and an extension of authentic bodhichitta will be to respect the diverse approaches of others without casting shade. 
Furthermore, I take comfort that all the teachings given in this program have, in recent times, been taught online by other important Lamas and teachers. I salute their bravery in paving the way and follow their example. I follow statements such as those by Garchen Rinpoche and Khenchen Tsultrim Lodro Rinpoche who have said that if the student has bodhichitta or a connection with the teacher then it can be just as powerful as in person. May Buddhism be an accessible resource to relieve suffering in all times to come and in all formats possible."
– Pema Khandro