Chod Retreat
With Pema Khandro
June 1 - 4, 2023
CHOD RETREAT
At Dakini Mountain and Online with Pema Khandro
June 1-4, 2023
Chod is the profound method of psychological transformation in esoteric Buddhism. Chod means cutting, referring to cutting through fictions to authentic presence.
The 2023 Chod retreat is a profound occasion of the sangha gathering for the first in person retreat since the pandemic at the glorious land of Dakini Mountain in the scenic Tahoe National Forest of Northern California. We will also celebrate Saga Dawa, the birthday and enlightenment day of the Buddha together in person with spiritual community!
---
THE DZOGCHEN CHOD TRADITION
This is a Tibetan meditation which is a potent, dynamic practice for cutting through fear and facing death. It is a practice of healing through ultimate compassion.
Mornings will focus on the Dzogchen Chod, known as Khandro Geykyang, the Laugher of the Dakinis, the concise version. Pema Khandro will give the transmission, lead the practice sessions and lead workshops on cutting through fear through the secret chod practice.
Midday sessions will focus on Troma practice, the profound deity yoga meditation on the black wrathful dakini from the Jeweled Garland of Chod, (the Rinchen Trengwa).
Evening sessions will focus on the Secret Chod – a path of profound psychological and embodied transformation. It is a direct path to healing through fear done in solitary practice and small community workshops.
Leader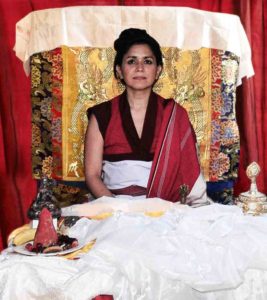 Pema Khandro
Pema Khandro is an internationally renowned teacher and scholar of Buddhist philosophy. Ordained in the Nyingma lineage, enthroned as a tulku, and trained as an academic, her teachings celebrate the dynamic coalescence of tradition and the modern context. She is the founder of Ngakpa International and its three projects: The Buddhist Studies Institute, Dakini Mountain and the Yogic Medicine Institute. In her work as a Buddhist teacher she is an authorized Lama and lineage holder of the Nyingma and Kagyu traditions and was enthroned to carry on the lineage of her predecessor, the first Pema Khandro, an early twentieth century…
Learn more about Pema Khandro