Ngakpa International welcomes you to the study of Tibetan Buddhism.
We are in the process of developing our new project for study of Buddhism online. Visit the Buddhist Studies Institute here: https://buddhiststudiesinstitute.org/
If you want to connect more with the Pema Khandro and our other instructors…
We offer four main approaches to learning and participating, each representing varying levels of study, practice and interest. You can learn about these learning tracks here: Curriculum of Practice and Study
Buddhist Philosophy and Practice
In order to foster opportunities for beginning and more advanced training – our classes vary.
Some are study oriented, some practice oriented, some community oriented and some are discussion oriented. We also have classes which are beginner oriented – Such as free daily meditation online here and Excellent path, sign up here.
You will find answers to frequently asked questions about studying with Pema Khandro here.
Opportunities for Study
How to Attend Public Classes
Public classes are open to the public. They are also called Open Teachings.
A.
Community Classes:
Taught by Ngakpa Intl. Instructors
Led at our residential centers, communities and other locations.
These classes include weekly meditation, community gatherings.
Community Meditation classes involve meditation, book study, discussion, lectures, movie-nights and guest teachers.
Connect with a local practice group in Berkeley, Santa Cruz, Seattle and Virginia. Email us: info@buddhistyogis.org to find out about your local group
B.
Open Teaching Webcast

 – Guided Meditation and Buddhist Philosophy with Pema Khandro:

Pema Khandro offers an open-free online guided meditation each month on the fourth Wednesday of the month. It is approximately half an hour with guided meditation and study of Excellent Path to Enlightenment, the guide to meditation by Longchenpa. Registrants will receive a link to log into to the class before the class starts. Email info@BuddhistYogis.org to receive the link.
C.   Other Classes:
Buddhist classes taught by Pema Khandro and guest teachers are offered regularly. These take place online, by phone or in person with regular retreats at Dakini Mountain. Topics covered range from introductory to advanced teachings.
We also sponsor public events which include empowerments offered by Tibetan Lamas. Empowerments are rituals that initiate the practices of meditation, visualization and mantra in Buddhist Tantra. Visit our Curriculum of Practice and Study for more details.
You may also find online self-placed classes Buddhism as a Way of Life with Pema Khandro here and Sutra Tantra and Dzogchen with Pema Khandro here
Additionally, member only events are also offered regularly. If you want to connect more with the community and Pema Khandro – become a member!
Buddhism is way of living in wakefulness and compassion.
– Pema Khandro
Enroll in Vajrayana Training:
Vajrayana Training Classes Online.
Vajrayana Training is a web course and guided study taught by Pema Khandro. It includes:
live web-classes once a month led by Pema Khandro
online discussion group led by Instructors
concurrent self-paced modules, offered each month
mentorship program led by Teaching Assistants
Classes take place once a month online in a combination of live classes, self-paced modules and discussion groups.
The Vajrayana Training classes are open to the public with a six-month commitment after completing the pre-requisite self-paced modules.
Additional self paced modules are provided throughout the course. The self-paced modules rotate through six cycles of teachings.
The live classes focus on study of Vajrayana texts.
The Vajrayana Training focuses on
cultivating and sustaining a firm understanding of core principles of Vajrayana practice, ritual, philosophy and lineage
understanding Ngondro theory and practice
studying core Vajrayana texts of the Nyingma tradition
Visit our Vajrayana Training page for more information. Additionally, support Vajrayana study, there is a yearly Vajrayana Retreat offered every Spring in California at Dakini Mountain.
The pre-requisite for these courses is an application, interview and Buddhist refuge.
Our approach to Buddhist study is to draw from Buddhist theory and practice as a resource for exploring mind and reality. We favor a non-dogmatic approach to exploring Buddhist resources with an emphasis in the value of questions, doubts, diversity and contradictions. 
"There is more than one right way to be a Buddhist. Some people draw on its philosophy,
others on meditation, others on ritual. To some people it is a religion, to others a way of life.
Buddhism is a free gift to help relieve suffering through cultivating authentic presence.
Students who study in our courses have many different belief systems and lifestyles.
It should be that way, diversity is beautiful.
It would be my worst nightmare for us to all agree on everything, look and act the same.
We are not taking an approach of blind faith, nor a rigid or devout approach.
Instead, the courses and retreats are supports for exploring
ourselves in and our world through Buddhist teachings and practices
– with an explorer mindset. An explorer mindset is one in which we value multiple perspectives. We value there being more than one 'right answer' which we can find by looking through the various Buddhist vehicles.
In Vajrayana Training we are studying a system and the context for practices. We are also working through some questions and issues about applying Vajrayana to the modern world.
Some of the Vajrayana Training students go on to do those practices they have studied as my students, in the Vajra Sangha. Some are students of other Tibetan Buddhist Lamas or go on to be students of other Lamas. But either way, we are all there together with a love a learning, with a sense of asking what is mind, what is reality, what is Tibetan Buddhism, what is Vajrayana, Tantra and Dzogchen. We use text study and self paced modules for this to support a variety of learning levels and learning styles."
– Pema Khandro
Join the Vajra Sangha:
note: Vajra Sangha is currently on pause for accepting new members; however, interested students can continue to fulfill other prerequisites until new membership resumes.
Vajra Sangha are the close personal students of Pema Khandro and the Nyingma lineage who are eligible for private teachings and advanced trainings. You can identify who the Vajra Sangha are at events – by their red and white shawls. These shawls belong to the traditional robes of Tibet's Buddhist Yogis, also known as ngakpas.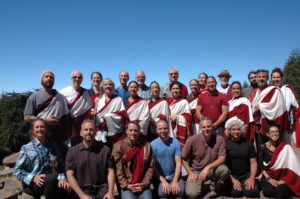 The Vajra Sangha study the view and practices from Tibetan Buddhist Vajrayana and Dzogchen under the direction of Pema Khandro. They follow the curriculum of study and practice described here, which is a sequential path of study, accomplishment and meditation beginning with ngondro. 
Because the time commitment of each student varies according to their circumstances, students may also elect to choose a path of just study, just accomplishment (Vajrayana practice) or just silent meditation. However, whenever possible students are encourage to proceed along all three tracks in order to cultivate a well rounded spiritual life balanced by intellectual study, ritual and contemplation.
The Vajra Sangha functions in a warm, closely connected community based on building long-term friendships, enjoying mutual respect and appreciation.
It is an association of serious practitioners who do in-depth study and service, who are also able to be light-hearted and celebrate life.
It is a community of leaders rather than a community of followers since advanced Buddhist study requires a willingness to take responsibility for one's life and be willing to care for our world. This leadership manifests in terms of engaging with a life of study and practice. It may also include taking Bodhisattva Vows, the commitment to awaken and benefit our world. And for those who feel so called, it may also manifest in terms of taking on leadership roles in the community.
Vajra Sangha Membership
Vajra Sangha have access to Vajra Sangha Only events:
Ngakpa Training  This is a course for in-depth study of Vajrayana Buddhism in the Nyingma lineage.
Vajra Sangha Retreats
Calling the Lama from Afar – These are informal conversation times between Pema Khandro and her long term personal students.
Private meetings, classes and private retreats
Online recordings of previous private classes, retreats and trainings
For More Information About the Vajra Sangha – Visit the Vajra Sangha Membership Page
For further questions: Info@BuddhistYogis.org
You will find answers to frequently asked questions about studying with Pema Khandro here.
Attend the Meditation Instructor Training
The Meditation Instructor Training supplies the fundamental knowledge necessary to lead meditation classes and one day meditation intensives. This includes a study of the postures for meditation, breathing techniques, 6 types of meditation techniques from Zhine, the Tibetan Buddhist meditation also known "Calm Abiding," common obstacles to meditation, remedies for obstacles of meditation and the most important Buddhist teachings to support meditation practice – what is mind, what are thoughts and emotions, what is the body-mind connection and how can it be harnessed for awakening. To read more, click here: Pema Khandro's Meditation Training or email info@BuddhistYogis.org