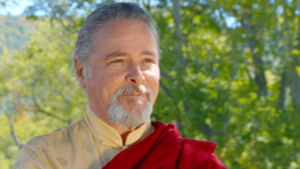 Jampa Mackenzie Stewart, MSOM, L.Ac., was born in Rochester, New York in 1951. He took refuge as a Buddhist at the age of 18 under Roshi Philip Kapleau at the Rochester Zen Center. He also studied briefly with Shunryu Suzuki Roshi in San Francisco. 
Later Jampa was drawn to Tibetan Buddhism, becoming deeply inspired after reading the life story of Milarepa. In 1981 he was introduced to Khenpo Karthar Rinpoche, the abbot of Karma Triyana Dharmachakra, the Karmapa's American seat in Woodstock, New York, and was accepted as a student in the Karma Kagyu lineage. Not long after, Jampa established the Rochester Dharma Study Group as a satellite of the Woodstock monastery.
In 1983 Jampa was introduced to Thich Nhat Hanh, and in 1988 was ordained into the Tiep Hien Order (Order of Interbeing). Jampa worked closely with Nhat Hanh, assisting him with leading retreats and helping him to translate his gathas into English.
Jampa took phowa with Drikung Kagyu lama Ayang Rinpoche in 1985, who he invited to Rochester to start what is now the Amitabha Foundation. Jampa also met the Drikung Kagyu abbot Khenchen Konchog Gyaltshen Rinpoche and sponsored his teaching in Rochester and later in Santa Fe. In 1987 he invited H.H. Drikung Kyabgon Chetsang Rinpoche to teach extensively in Rochester during H.H.'s visit to America..
In 1989, Jampa became interested in the Nyingmapa lineage. He began studying with Repkong Ngakpa Lama Tharchin Rinpoche, and moved to Santa Cruz, CA in 1990 to study more closely with him. During this time, Jampa began writing The Life of Gampopa, Milarepa's Dharma heir. 
In 1991, Jampa moved to Santa Fe, New Mexico to study Traditional Chinese Medicine and become a licensed acupuncturist and Doctor of Chinese Medicine. While there, Jampa met Nyingma lama H.E. Gangteng Tulku Rinpoche of Bhutan, who was to become one of his major teachers in the Dzogchen lineage of Pema Lingpa. 
In 1997, Jampa was invited to teach Chinese Medicine at the Academy of Oriental Medicine in Austin, Texas. While there, he established Yeshe Khorlo, a branch of Gangteng's national centers, and hosted Gangteng Rinpoche several times in Austin.
In 2003, Jampa met Adzom Paylo Rinpoche, from whom he received semtri and pointing out instructions, as well as the Longchen Nyingthig phowa, commentaries by the great Longchenpa and other empowerments.
In 2008, Jampa began a five year retreat cycle in California with the great Nyingma abbot Khen Namdrol Rinpoche on Longchenpa's The Precious Treasury of Words and Meanings, an in-depth teaching and commentary on the 11 Vajra Topics of Thogal. 
In 2010, Jampa moved to Crestone, Colorado on sabbatical to be a part of Yeshe Khorlo, Gangteng's seat in America. While in Crestone, Jampa wrote The Life of Longchenpa, and served as umdze, chorpen, teaching director and retreat cabin manager. He also received the full teachings of the Dzogchen preliminaries, trekchod and thogal in the Kunzang Gongdu cycle from Gangteng Rinpoche, and received tummo and tsalung teachings from resident lama Lopon Phurba Dorji. 
As luck would have it, Chamma Ling, the Bon retreat center of Tenzin Wangyal Rinpoche, was only half a mile from Jampa's house. Tenzin Rinpoche visited Crestone annually, and Jampa attended several retreats with him, as well as subsequent retreats in Virginia on the Zhang Zhung Nyengyud. In Crestone, Jampa became friends with John Jackson, a leading Bon teacher and the director of Chamma Ling, and has invited John to teach at Valley Spirit Wellness Center in Washington, Connecticut, Jampa's current home.
In 2014, Jampa began a seven month solo retreat in Crestone, focused on both Bon and Nyingma Dzogchen. At its conclusion in 2015, Jampa returned to Austin. One year later he moved to Washington, Connecticut and entered into the 3 Doors Academy holding semi-annual retreats at Serenity Ridge outside of Charlottesville, Virginia, Tenzin Wangyal's main retreat center. He completed a two and a half year training under Tenzin's senior students Gabriel Rocco and Marcy Vaughn.
Jampa is also highly trained in Tai Chi, Qigong, and Taoist Inner Alchemy. In 1981, Jampa was with the first U.S. delegation to China to learn the original style of Chen style Tai Chi from China's top masters. In 1982 he founded the Rochester T'ai Chi Ch'uan Center, currently celebrating its 38th year of operation. 
Jampa is a senior Healing Tao instructor trained by Taoist Master Mantak Chia, with whom he has helped teach eight retreats and teacher trainings, and was editor and contributing writer for three of Chia's books. 
Jampa has served as board member and president of the National Qigong Association. He received his Doctor of Oriental Medicine degree from Southwest Acupuncture College in Santa Fe, and served as professor and dean at AOMA Graduate School of Integrative Medicine in Austin, Texas. He has led workshops and retreats throughout the U.S., as well as in Canada, Ecuador and the Caribbean. He is currently in clinical practice of acupuncture and Chinese medicine in Washington, Connecticut, where he also teaches Buddhist and Taoist meditation, Tai Chi and Qigong.