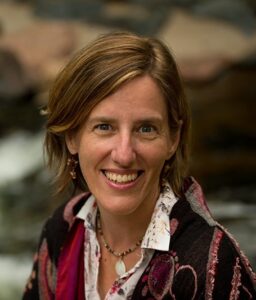 Holly Gayley, Associate Professor of Buddhist Studies at the University of Colorado Boulder, is a scholar and translator of contemporary Buddhist literature in Tibet and Himalaya. Her research areas include gender and sexuality in Buddhist tantra, ethical reform in contemporary Tibet, and theorizing translation, both literary and cultural, in the transmission of Buddhist teachings to North America. Gayley is author of Love Letters from Golok: A Tantric Couple in Modern Tibet (Columbia University Press, 2016), co-editor of A Gathering of Brilliant Moons: Practice Advice from the Rimé Masters of Tibet (Wisdom Publications, 2017), translator of Inseparable Across Lifetimes: The Lives and Love Letters of the Buddhist Visionaries Namtrul Rinpoche and Khandro Tāre Lhamo (Snow Lion, 2019), and editor of Voices from Larung Gar: Shaping Tibetan Buddhism for the Twenty-First Century (forthcoming in 2021).
Dr. Gayley's numerous articles in peer-reviewed journals explore the emergence of Buddhist modernism on the Tibetan plateau and a new ethical reform movement spawned by cleric-scholars at Larung Buddhist Academy in Serta. Her recent publications on the topic include "Controversy over Buddhist Ethical Reform: A Secular Critique of Clerical Authority in the Tibetan Blogosphere" (Himalaya Journal, 2016), "Non-Violence as a Shifting Signifier on the Tibetan Plateau" (Contemporary Buddhism, 2016 with Padma 'tsho), "Reimagining Buddhist Ethics on the Tibetan Plateau (Journal of Buddhist Ethics, 2013), and "The Ethics of Cultural Survival: A Buddhist Vision of Progress in Mkhan po 'Jigs phun's Advice to Tibetans of the 21st Century" in Mapping the Modern in Tibet (International Institute for Tibetan and Buddhist Studies, 2011).
In addition, Dr. Gayley is co-founder of the Tibet Himalaya Initiative at CU Boulder, co-chair of a five-year seminar on "Transnational Religious Expression: Between Asia and North America" at the American Academy of Religion, and part of the founding team for the Contemplative Resource Center at CU Boulder.