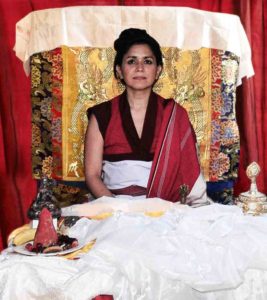 Pema Khandro is a Tibetan Buddhist teacher, humanitarian and scholar specializing in the philosophy and practice of Tibet's Buddhist Yogis.
Her mission is to make in-depth Buddhist education accessible, to open the doorway to the great treasures of philosophy, meditation, medicine and art contained in Tibetan Buddhism.
Pema Khandro is the spiritual leader of the Community of Buddhist Yogis in North America, she is the founder of Ngakpa International, the Yogic Medicine Institute, Dakini Mountain, and Ngakpa House, a charity which supports the education of children and elders in the Himalayas.
Pema Khandro is an authorized Lama and lineage holder of the Nyingma and Kagyu lineages and one of few westerners recognized and enthroned as a tulku. She is a teacher of Dzogchen and Vajrayana Buddhism, teachings that emphasize cultivating awareness and presence as the goal of the path.
Pema Khandro specializes in the teachings of Dzogchen, Chod and the Six Yogas; esoteric Buddhist practices for lay people and householders which focus on direct access to cultivating intrinsic wisdom.
She was ordained in the Nyingma tradition and was authorized to pass this non-monastic lineage of ordained Buddhist Yogis, also known as naljorpas and ngakpas on to her students, a task which she has been dedicated to since 1999.
Pema Khandro's teachings and activities emphasize the importance of the body-mind connection, natural health and nutrition. She is certified as Tibetan Naturopath and has led dozens of courses in nutrition, yoga teacher trainings, yoga therapy trainings, meditation trainings and courses in natural medicine for health practitioners from every field.
Her work is also academic. She spends her days studying Tibetan Buddhist history and researching the philosophical tradition, stories, culture and medical practices of the Buddhist Yogis. She holds a master's degree specializing in the study of Tibetan Buddhism and is currently completing a Phd specializing in Tibetan studies. She speaks English, Tibetan, Chinese and Spanish languages.
Pema Khandro has been featured in Yoga Journal as one of the "young teachers not to miss," on TV, on numerous radio interviews, and her writing is also featured in the February 2015 issue of Buddhadharma quarterly.
Today, Pema Khandro continues to be an advocate of the relevance of traditions of Tibet's Buddhist Yogis as Buddhism takes shape in North America. She runs a residential center, leads a thriving community, runs a clinic and non-profit organization. She teaches courses regularly, pursues research projects and continues to cultivate a close relationship with her students and friends who work together in Ngakpa Intl and the North American Community of Buddhist Yogis.
For full bio and website, visit: PemaKhandro.org
Pema Khandro's Extended Biography
About Pema Khandro's Recognition
Events with Pema Khandro