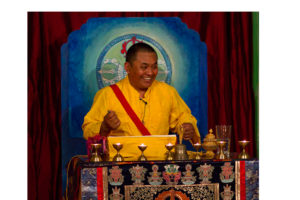 His Eminence Gyaldak Rinpoche is head of Drub Tashi Dhargey Cholkor Dechenling Monastery. In the lineage of the great Yogi Milarepa, Rinpoche was recognized as the tulku (reincarnation) of one of the three main disciples of Gampopa – Dorje Gyalpo. This recognition was conferred by the great Nyingma Yogi Sera Yangtrul, Sakya Dawa Sangpo and Taklung Matrul Rinpoche. Rinpoche lived in Tibet until 1991 and was taught by the Karmapa, the Dalai Lama and Chatral Rinpoche and he came to the US in 2005.
Gyaldak Rinpoche's father was the a Kagyu and Nyingma practitioner who was the student of the great yogi and treasure revealer, the Putsi Tulku Rigdzin Chochung and his partner, the esteemed yogini, Pema Khandro, who travelled around Kham teaching Dzogchen and the Six Yogas of Naropa. Born in Kham Dhapa Zong in Eastern Tibet and recognized as a tulku, a reincarnated teacher when he was ten years old. He is the abbot of Drup Tashi Dhargey Cholkor Dechenling Monastary in Kham. It was founded by Gyaldak Rinpoche's previous incarnation, Dorje Gyalpo nine hundred years ago. The monastery was destroyed in 1959 but was then rebuilt. Gyaldak Rinpoche went into exile in 1991 when he ant to become the student of the Dalai Lama.
After that time he continued his studies at  Kagyu Palchen Choling in Sikkhim and Palpung Sherabling Monastery in northern India, as well as studying Buddhist philosophy under His Eminence Mingyur Rinpoche. He also received teachings from the great Nyingma master His Holiness Chatral Rinpoche in Nepal.