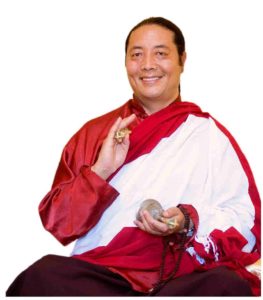 The teachings of Lama Lhanang Rinpoche are simple, profound and touch the very essence of Tibetan Buddhism. Rinpoche is a Spiritual Teacher and Meditation Master in the Nyingma Longchen Nying-thig lineage. Having studied in Tibet with many great masters, Rinpoche embodies their wisdom in his teachings about happiness and loving kindness. His is a refreshing voice in the chaos of today, focusing on how to find Happiness within.
He is an accomplished instructor of Anu Yoga, an artist, a teacher of Feng Shui, cultural and historical studies and a skillful practitioner of Tibetan Medicine.
Born and raised in Northeastern Tibet, he is a child of the high plains of Golok, Amdo. Today, he lives in California with his wife and infant son and teaches extensively throughout the United States, Canada, Mexico and Europe.