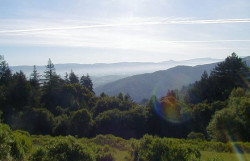 Resting in the Vast Expanse: Dzogchen Meditation Retreat
July 12 - 17, 2016
Retreat into the beautiful redwood forest, unwind with restorative yoga, experience deep meditation, enjoy organic meals, converse with fascinating people and best of all, receive Buddhism's most profound teachings….
Join the community of Buddhist Yogis and friends for a rare opportunity to hear Pema Khandro teach on the teachings of the great 14th century Dzogchen master, Longchenpa, from the ngal gso skor gsum.
About Pema Khandro
Pema Khandro is a Tibetan Buddhist teacher, scholar and humanitarian, specializing in the philosophy and practice of Tibet's Buddhist Yogis. She is the founder of Ngakpa International, the Yogic Medicine Institute and two residential centers. For more information visit www.PemaKhandro.org
Residential Retreat Details
This is a residential retreat and will be held at Mount Madonna Retreat center, in California's scenic redwood forest. Meals will be vegetarian, with a variety of simple food items to choose from.
Become A Member
For Information about All Access Pass Membership:Membership@Ngakpa.org
For More Information: Info@BuddhistYogis.org
**Accommodations are limited and on a first come first serve basis.
Prices
$1,445.00 – Tuition $475 + Single room w/ private bath @ $194/day
$1,300.00 – Tuition $475 + Single @ $165/day
$1,145.00 – Tuition $475 + Double @ $134/day
$1,025.00 – Tuition $475 + Dorm (4-7 to a room) @ $110/day
$915.00 – Tuition $475 + Center Tent (w/ foam mattress, no bedding) @ $88/day
$870.00 – Tuition $475 + Own Tent or Van @ $79/day
$820.00 – Tuition $475 + Commuting @ $69/day