Moonlight Dispelling Darkness: Pacifying the Four Demons – Online with Pema Khandro
With Pema Khandro
October 7 - 9, 2022
Moonlight dispelling darkness refers to the practice of wakefully approaching the inner obstacles that impede awakening. Join scholar and Lama, Pema Khandro in an online course that explores the four demons, or māras, addresses detailed instructions for recognizing gods and demons, cultivating inner freedom, understanding the cause of evil, how duality functions, determining what is the fictive self, understanding how mind becomes bound and freed and working with joyful experiences without being bound by them.
Chod is a method of reclaiming the profound inner wisdom of fierce compassion. This course engages deep study of the Troma Nagmo concise meditation and the "One Mother's Advice," in English and Tibetan. It also includes personal and small group exploration of the personal application of pacifying four demons. Classes include Troma Nagmo Chod meditation, in depth textual study, dharma conversations, with small group exercises beginning on the second day. Tibetan text and English translations are provided.
Troma Nagmo Chod practice engages every aspect of ones being through prayers, visualizations, meditations, songs, dances and playing instruments. It is famously known for the central visualization of ones death and offering ones corpse to lovingly pacify and liberate demons.
This course is based on two texts the first is a wood block text, The One Mother's Advice, (Phung po gzan skyur gyi rnam bshad gcod kyi don gsal bye), a collection of hundreds of years of Chod texts given as Intimate Instruction Class advice (man ngag) compiled by Gelong Jampa Sonam. The second is the practice text, Jeweled Garland of Chod's Troma Nagmo concise meditation. These come from the collected Chod teachings known as the Rinchen Trengwa (rin po che'i phreng ba 'don bsgrigs bltas chog tu bkod pa gcod kyi lugs sor bzhag bzhugs so)  compiled by Rangjung Dorje in the fourteenth century.
This course is taught for practitioners of Chod and Troma practitioners or Vajrayana practitioners interested in direct engagement with Buddhist philosophy and Buddhist psychology.
Recommended prerequisites could be Dakini Day Chod, Troma Retreat, other Chod experience. Buddhist Studies Institute is non-sectarian, so previous practice in any tradition is acceptable to fill pre-requisites. No one is turned away, but we joyfully advise to expect the teachings to be directed towards experienced and informed practitioners, yet, as always, there is a space for you, all are welcome to our joyous, friendly learning community.
This course is taught by scholar, Lama and Tulku, Pema Khandro. Pema Khandro is a lineage holder of the Nyingma and Kagyu traditions and presents in-depth, traditional study and practice with the expanded perspective that engages the most important questions of our time from a scholar-practitioner's point of view. Learn more about Pema Khandro here: PemaKhandro.org
---
Friday & Saturday, Oct 7-8th: 9am-12pm San Francisco \ 12-3pm New York \ 5-8pm London
Sunday, Oct 9th: 8am-11am San Francisco \ 11am-2pm New York \ 4-7pm London
---
Tuition*  – Participation limited to the first 80 registrants
Early Bird Tuition (available until 9/14) – $180
General Tuition – $210
*Members can apply member codes at checkout for discount
Financial Aid Considerations Program costs are set at a minimum fee already, with financial aid built into all tuition rates. Because we are a non-profit organization, the costs of all activities and overhead of our organization must be covered by the participants of the courses or donations and all courses are offered at below cost. For those who are experiencing genuine financial hardship and wish to enroll in the program, Financial Aid applications are available. (Applications must be received in advance. There are two Financial Aid Scholarships available for this program.) Financial Aid Scholarships receive a 50% discount on tuition. 
Submit Financial Aid Scholarship Application Here
Leader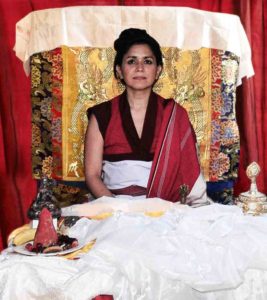 Pema Khandro
Pema Khandro is an internationally renowned teacher and scholar of Buddhist philosophy. Ordained in the Nyingma lineage, enthroned as a tulku, and trained as an academic, her teachings celebrate the dynamic coalescence of tradition and the modern context. She is the founder of Ngakpa International and its three projects: The Buddhist Studies Institute, Dakini Mountain and the Yogic Medicine Institute. In her work as a Buddhist teacher she is an authorized Lama and lineage holder of the Nyingma and Kagyu traditions and was enthroned to carry on the lineage of her predecessor, the first Pema Khandro, an early twentieth century…
Learn more about Pema Khandro