Saga Dawa
With Pema Khandro
June 3, 2023
Saga Dawa is the most auspicious day of the Tibetan Buddhist Calendar and a day celebrated by Buddhists all around the world. It is the anniversary of the Buddha's birth, enlightenment and the day he passed away into parinirvana. The effects of actions on this day are said to be multiplied by ten million times because of the spiritual power of this full moon on the fourth month. Join us for prayers and aspirations on this auspicious occasion.
This will be a hybrid event. Those who are participating in the Chod Retreat at Dakini Mountain will attend this event in person. Those who are not able to make it in person for the retreat can still join us for Saga Dawa online! Register to get access to the Zoom links to join.
Email Info@BuddhistStudiesInstitute.org with any questions.
Leader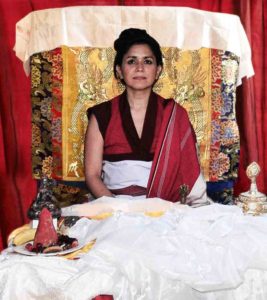 Pema Khandro
Pema Khandro is an internationally renowned teacher and scholar of Buddhist philosophy. Ordained in the Nyingma lineage, enthroned as a tulku, and trained as an academic, her teachings celebrate the dynamic coalescence of tradition and the modern context. She is the founder of Ngakpa International and its three projects: The Buddhist Studies Institute, Dakini Mountain and the Yogic Medicine Institute. In her work as a Buddhist teacher she is an authorized Lama and lineage holder of the Nyingma and Kagyu traditions and was enthroned to carry on the lineage of her predecessor, the first Pema Khandro, an early twentieth century…
Learn more about Pema Khandro